I owe a huge amount of thanks to
oxoniensis
. I predominantly used
screencaps she made
. There are very few I got from other sources. I also would like to thank the Sam to my Dean,
courtneyturney
for helping me with labeling an image or two.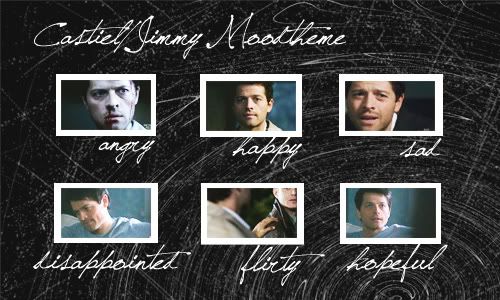 .Preview entire theme.
.download.
*NOTE: There are two specific moods missing - bouncy and giggly. I'm sure you can understand why. Castiel has never really been bouncy or giggly as far as we know and it was struggle enough to find ones depicting other positive emotions.
Instructions
This is the way I always load a custom mood theme. It takes a long while, but it's worth it in my opinion.
1. Download the .zip file above.
2. Use an image hosting website to upload all of the themes. I recommend Photobucket. *When all images are uploaded, I suggest going to the bottom of the page and selecting 'View All' for the album. It'll make the installation easier.*
3. Go to
Customize Journal Style
4. Under mood themes, click
edit/create custom mood theme
5. Under 'Create New Theme' type in whatever you want to title it and click 'Create'.
6. Once it's made, click 'edit' and from there add the appropriate URLs. The dimensions are 90x50. I suggest you save it every now and then, just in case your computer decides to freeze up or the like. It's happened to me in the past and I had to upload the damned thing all over again. Not fun!
7. When you've finished doing this, click 'Save Changes'. You'll be brought back to the moodtheme management page where you should then click 'Use' to apply the theme to your journal.
8. Enjoy!
If you have any questions, please feel free to ask. I don't bite!
This took me hours and I am so proud of it. So please please please credit me in your profile/journal/etc.
Current Mood: accomplished